Out of Joint and the Octagon Theatre Bolton present
Mixed Up North
by Robin Soans 2009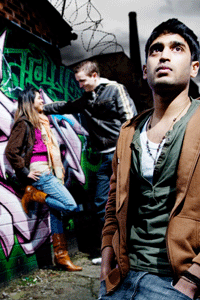 Buy the book from our shop.
Based on real events, Mixed Up North is a fiercely funny and moving new play about the difficulties of uniting divided racial communities.
Trish leads a youth theatre group designed to bring together Asian and White teenagers. As she struggles to share her artistic vision with a cast who think acting is "gay", the compelling stories of the young stars unfold, along with a moving history of their town.
Take your seat at their final dress rehearsal… with tensions rising and mobiles ringing, will Trish and Bella bring their utopian dream to a triumphant conclusion?
TOUR 2009
OCTAGON THEATRE, BOLTON
10 – 26 Sep
01204 520 661
www.octagonbolton.co.uk
ROYAL THEATRE, NORTHAMPTON
29 Sep – 3 Oct
01604 624811
www.royalandderngate.co.uk
CURVE, LEICESTER
6 – 10 Oct
0116 242 3560
www.www.curveonline.co.uk
SOUTHAMPTON NUFFIELD THEATRE
13 – 17 Oct
023 8067 1771
www.nuffieldtheatre.co.uk
STONYHURST COLLEGE, CLITHEROE
19 Oct, 7.30pm
(Sold out)
BOLTON LADS AND GIRLS CLUB
20 Oct,
(Not public performance)
BOLTON 6TH FORM COLLEGE
21 Oct, 1.30pm (sold out)
(sold out)
TURTON HIGH SCHOOL
22 Oct, 1.30pm???
www.tmac.uk.com
ACE CENTRE, NELSON
23 Oct, 12.30pm
www.acecentre.co.uk
DUKES, LANCASTER
28 – 31 Oct
0845 344 0642
www.dukes-lancaster.org
LIVERPOOL EVERYMAN
3 – 7 Nov
0151 709 4776
www.everymanplayhouse.com
WILTON'S MUSIC HALL, LONDON
10 Nov – 5 Dec
Tickets available from the National Theatre