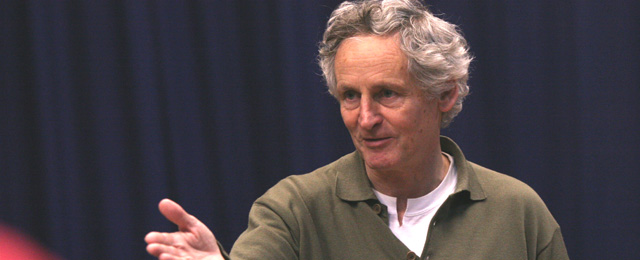 Max Stafford-Clark, Director
Founded Joint Stock Theatre group in 1974 following his Artistic Directorship of The Traverse Theatre, Edinburgh. From 1979 to 1993 he was Artistic Director of The Royal Court Theatre. In 1993 he founded the touring company, Out of Joint.
His work as a Director has overwhelmingly been with new writing, and he has commissioned and directed first productions by many of the country's leading writers. For Out of Joint these have been The Queen and I by Sue Townsend, The Libertine by Stephen Jeffreys, The Break of Day by Timberlake Wertenbaker, The Steward of Christendom by Sebastian Barry, The Positive Hour by April de Angelis, Shopping and Fucking by Mark Ravenhill, Blue Heart by Caryl Churchill, Our Lady of Sligo by Sebastian Barry, Our Country's Good by Timberlake Wertenbaker, Drummers by Simon Bennett, Some Explicit Polaroids by Mark Ravenhill, a double bill of Rita, Sue and Bob Too by Andrea Dunbar and A State Affair by Robin Soans, Feelgood by Alistair Beaton, Sliding with Suzanne by Judy Upton, Hinterland by Sebastian Barry, A Laughing Matter by April De Angelis, Duck by Stella Feehily, The Permanent Way by David Hare,Talking to Terrorists by Robin Soans, O go my Man by Stella Feehily, The Overwhelming by JT Rogers (National Theatre in association with Out of Joint), King of Hearts by Alistair Beaton, The Convict's Opera by Stephen Jeffreys, Dreams of Violence by Stella Feehily, Mixed Up North by Robin Soans, Andersen's English by Sebastian Barry, The Big Fellah by Richard Bean, A Dish of Tea with Dr Johnson (which adapted, with Ian Redford and Russell Barr, from James Boswell's writings) and Bang Bang Bang by Stella Feehily.
New writing directed for Joint Stock includes Fanshen, The Speakers (both with William Gaskill), Light Shining In Buckinghamshire and Cloud Nine. For The Royal Court: The Arbor, Operation Bad Apple, Top Girls, Rita Sue And Bob Too, Falkland Sound, Tom And Viv, Rat In The Skull, Aunt Dan And Lemon, Serious Money, Our Country's Good, Icecream, My Heart's A Suitcase, Hush and Three Birds Alighting On A Field.
In addition he has directed The Seagull, The Pope's Wedding, The Recruiting Officer and King Lear for the Royal Court; A Jovial Crew;The Wives' Excuse and The Country Wife for The Royal Shakespeare Company; and Road, The Man of Mode, She Stoops to Conquer, Three Sisters, Macbeth, Top Girls and Our Country's Good for Out of Joint. He directed David Hare's The Breath of Life for Sydney Theatre Company in 2003. He has also directed for The Abbey Theatre, Dublin and Joseph Papp's Public Theatre, New York.
Academic credits include an honorary doctorate from Oxford Brookes University and a Visiting Professorship at the University of Hertfordshire. His books include Letters to George and Taking Stock, both available in our shop.
MARTIN DERBYSHIRE, Producer
Martin trained in Film Production at Sheffield Hallam University. His career began with Concept Theatre Company before joining Reform Theatre Company on their first project in 1999. Martin produced over twenty touring productions with Reform over the next ten years before joining Sheffield Theatres in 2009, producing projects for the in-house education department. In 2011 Martin was appointed Creative Producer of The Lantern Theatre, Sheffield, producing the venue's first professional production Order, followed by Bill and Can't Stand Up for Falling Down. Martin joined Out of Joint in 2013.